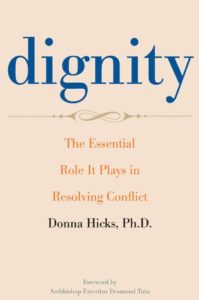 We will not have our weekly adult religious education class on Sunday (16 April 2017) — our adult class will resume next Sunday (23 April 2017) at 9:15 AM.
Next Sunday, we will continue our study and discussion of Dignity: The Essential Role It Plays in Resolving Conflict by Donna Hicks PhD.
Class "homework" — last week, we asked the class to take a good look at the ten temptations to violate dignity, and think about the ones to which they are the most susceptible, and something they might do to try to interrupt and ultimately extinguish that response.
You can find a copy of the ten essential elements of dignity and the ten temptations here.  We look forward to this discussion next Sunday (23 April 2017).