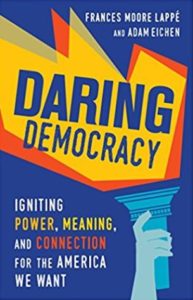 Please join us on Sunday (1 July 2018) at 9:15 AM for our adult religious education class.
We will resume our discussion of Daring Democracy: Igniting Power, Meaning, and Connection for the America We Want by Frances Moore Lappe and Adam Eichen.
Susan Caldwell (All Souls Director of Religious Education) attended a workshop with one of the authors at the UUA General Assembly (GA) and is eager to share some of the success stories she heard.
Before the adult class hiatus, we got through the really depressing "this is how we got here" chapters (yes, five families have essentially highjacked democracy in our country and there is no turning away from that fact).
But even in this dismal week, the rest of the book offers practical advice on "how we fix it" and even a few success.