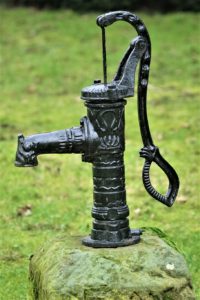 Please join us on Sunday (23 August 2020) for "Fixing the Pump" by Rev. Barbara Jarrell.
Our service will be livestreamed on Facebook Live here.
We will have a  virtual coffee hour after the service on Zoom.
While we are remaining physically distant, we want to know how you are doing, what you need, and what you are interested in.  You can let us know using these online surveys.
And you can contribute to All Souls using this online resource.
All Souls members and friends have asked us what is the timeline for getting back into the building for worship services and other gatherings.
The Board has determined that we will not even begin a
discussion of in-person services until the state has entered phase three.  And we will likely take some time to discern whether and how long that phase three will last.
And the UUA President Rev. Susan Frederick-Gray recently issued a statement that we should be prepared to continue meeting virtually through at least May 2021.