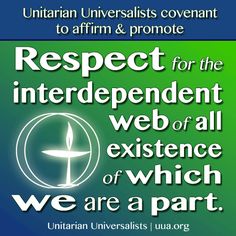 Please join us on Sunday (18 March 2018) at 9:15 AM for our adult religious education class.
Today, we begin our season of focus on our 7th Principle — "Respect for the interdependent web of all existence, of which we are a part."
This is a time for us to focus on our relationship with and our responsibility to the planet, and each other.
We have several options for the direction of this next pillar so we will "take the temperature" of the group on Sunday to determine our path.