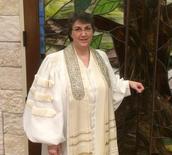 Please join us on Sunday (1 December 2019) at 11:00 AM for "Be Holy" by Rabbi Dr. Jana de Benedetti.
We are delighted to welcome Rabbi Jana back to our pulpit.  She is the spiritual leader of B'nai Zion Congregation and a great friend of All Souls.
Religious education classes for children and youth are offered during the 11:00 AM service.  Children and youth attend the first 15-20 minutes of the service and then are dismissed to class.