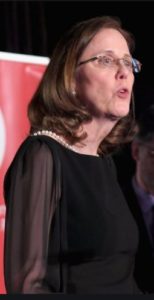 Please join us for our 5 July 2020 Sunday worship at 11:00 AM for the presentation of the Ralph Waldo Emerson Award to Dr. Pamela McPherson.
Our service will be livestreamed on Facebook Live here.
We will have a  virtual coffee hour reception after the service for Dr. McPherson on Zoom.
The Emerson Award is given annually by the congregation of All Souls to the individual or organization from the wider community who has exemplified the Principles and values of liberal religion.
Past recipients have included the late Sister Margaret McCaffrey, Rev. Lee Jeter of the Fuller Center for Housing, the Philadelphia Center,  Frances Kelley, Lady Carlson of Together Louisiana, Brian Salvatore, and many others.
We are honored to announce that the 2020 Emerson award goes to child and adolescent psychiatrist Dr. Pamela McPherson for her role as a federal whistle-blower, revealing the conditions under which migrant children are held in detention at the border, and testifying before Congress on the deleterious effects on the children's psychological and emotional well-being.
Ordinarily, we would have a reception, with cake and everything, for our honoree.  So Dr. McPherson — we owe you cake — but in the meantime — we will have a virtual coffee hour via Zoom after the service.
While we are remaining physically distant, we want to know how you are doing, what you need, and what you are interested in.  You can let us know using these online surveys.
And you can contribute to All Souls using this online resource.