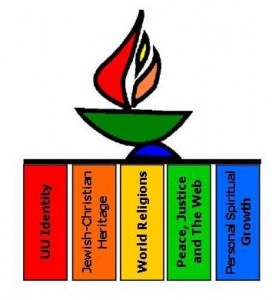 Please join us for our online religious education for children and youth this Sunday (16 August 2020) — we will start this online Zoom classroom at 1:00 PM after the virtual coffee hour is over.
The Zoom link  for this group will be found on the All Souls Religious Education Facebook Group.
We had originally planned for a socially-distanced tie-dye event for this Sunday.
However, we're going to postpone that for now:
Along with the recent surge throughout our state, we keep learning more about this virus and the wider age spectrum of people who are getting sick from this virus.
With schools reopening and our families in various stages of preparation — in-person or virtual — we don't feel responsible bringing people together for additional in-person gatherings that — however fun — are not essential.
When the weather gets cooler, we'll figure out some multi-generational outdoor activities that require less handing of things from person to person and allow for better physical distancing.
If your family was looking forward to tie-dye, email Susan and she will get a tie-dye kit to your house with a few colors of dye, some soda ash, and all the instructions.  Otherwise, we promise we'll get together and tie-dye as soon as it's safer.
We can still use your art work illustrating our principles and sources.
You can post it on the All Souls Religious Education page on Facebook or send it to Susan at dre@allsoulsshreveport.org.
We can use more illustrations of the third and fourth principles and — of course — the eighth principle too:
How people act when they support each other and learn together
How people act when they are free to search for truth in their own lives?
How people act when they are working to dismantle racism and create beloved community?
Join us using the religious education Zoom link about 5 minutes after the worship service.
If you aren't on Facebook, send Susan Caldwell an email or text her at 318-465-3427 to get into Zoom for online religious education class.