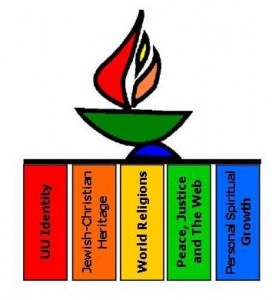 Please join us this Sunday (15 November 2020) at 1:00 PM for our weekly family religious education online class via Zoom.
The Zoom link will be on the All Souls Religious Education Facebook group and on the church's Slack General channel.
Email Susan Caldwell if you would like to be added to either online forum.
Gratitude trees are being mailed out this week and next to families with children in grades Preschool through Grade 5.
This has been such a hard fall for so many that it can seem very difficult to try and think of things for which we are grateful.
That may be the time when we need to look most earnestly to find them.
The packet will include a poster of a tree as well as a small collection of pre-cut paper leaves on which to write down those things for which you are grateful and glue or tape them to the tree.
If you want, you can post pictures of your tree on the Religious Education Facebook page or on the General Slack channel.
This is not intended to be a stresser or "just one more thing to do."
Take the time if and when you have the time.
What makes you thankful?
We'd love to know.