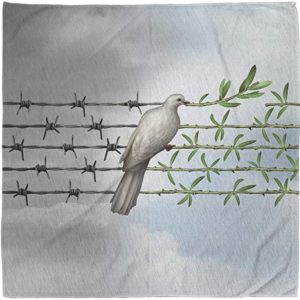 Our May 2021 give away the plate recipient is Louisiana Advocates for Immigrants in Detention (LA-AID).
Under the Biden administration, immigrants are being released from detention centers around the state just about every day so they can join family members around the nation as they await adjudication of their asylum claims.
LA-AID has been helping to house and feed them temporarily along with transporting them to their destinations.  Funds are used to buy plane and bus tickets, food, hotel rooms, clothing and other necessities along with reimbursing those who have stepped up to provide those things.
LA-AID is a volunteer organization dedicated to the abolition of immigrant detention.
Two ways to donate:
Online — Go to our donation site using this link.  If you are paying your pledge, select "2021 Pledges" and enter that amount for your pledge contribution.  Then select "Collection Plate" to give the amount you would like to give to LA-AID.  All online collection plate contributions for the month of May 2021 will go to LA-AID.
Offline — Please send your give away the plate contribution checks to All Souls Unitarian Universalist Church, 9449 Ellerbe Road, Shreveport LA  71106.  Please put "LA-AID" on the memo line of the check if  you want to have 100% of this check go to LA-AID.  If you want less than 100% of the check go to LA-AID, please put the amount you want going to LA-AID on the memo line.