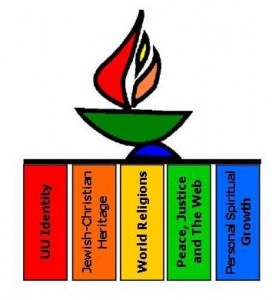 Please join us for our online religious education for children and youth this Sunday (21 June 2020) — we will start this online Zoom classroom about 5 minutes after our worship service is over.
The Zoom link  for this group will be found on the All Souls Religious Education Facebook Group.
Summer is here and art kits really are headed your way on Saturday afternoon (20 June 2020) — this week's summer project is Peace and Justice Stones.
You'll get some paint suitable for outdoors (non-toxic but not washable so wear clothes that can be stained by paint), some brushes, and some black river rocks.
The art boxes also contain some markers and colored glue for later projects.
The idea is to paint messages of Hope, Love, Peace, and Justice on the rocks and leave them in places where others can find them. Then take a picture of your rocks in the spots where you've left them, and we'll share those on our Sunday Zoom worship service.
If you haven't had a chance yet to paint them, we can work on them together and share on the religious education Facebook group in the coming week or on next Sunday.