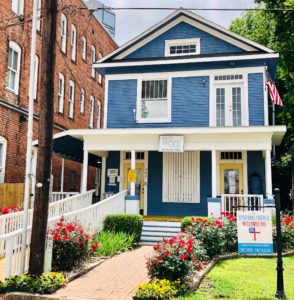 Our Give Away the Plate recipient for the month of March 2021 is Holy Cross Hope House (a day shelter for the homeless at 762 Austen Place, Shreveport LA  71101).
This month, we're asking that when you donate money for Hope House to All Souls and All Souls will get the money to Hope House at the end of the month.
Two ways to donate:
Online — Go to our donation site using this link.  If you are paying your pledge, select "2021 Pledges" and enter that amount for your pledge contribution.  Then select "Collection Plate" to give the amount you would like to give to Hope House.  All online collection plate contributions for the month of March 2021 will go to Hope House.
Offline — Please send your Give Away the Plate contribution checks to All Souls Unitarian Universalist Church, 9449 Ellerbe Road, Shreveport LA  71106.  Please put "Hope House" on the memo line of the check if  you want to have 100% of this check go to Hope House.  If you want less than 100% of the check go to Hope House, please put the amount you want going to Hope House on the memo line.