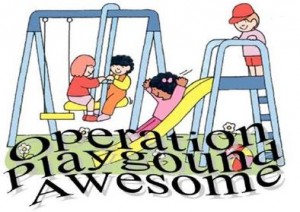 On 26 and 27 July 2013 starting at 7:00 AM, we will be having a Garage Sale (145 Ockley Drive, Shreveport LA).  Proceeds will benefit OPA (Operation Playground Awesome).
To arrange for drop-off or for more information, email Robin or Jason Drury or call them at 318-564-7624.  Donate only clean, working items and children's clothing in good conditions.
No adult clothing please — If you have adult clothing to donate, drop by the church office for some Goodwill bags to hold your donations for Goodwill.