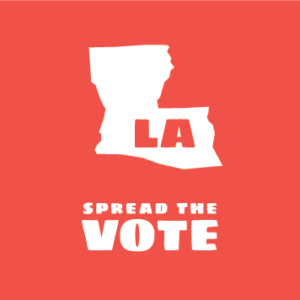 Please join us on Sunday (31 March 2019) at 9:15 AM for our adult religious education class.  We will have a presentation on "Spread the Vote" with Candice Battiste (Director of Spread the Vote Louisiana).
Spread the Vote is a national organization that empowers and educates voters and also helps them to obtain the necessary state photo IDs to exercise their voting rights and participate in many other basic, daily activities of citizenship that many of us take for granted.
From the Louisiana Spread the Vote Facebook page:
Without ID it is almost impossible to obtain legal employment, to find housing, or even needed medical care. At Spread The Vote + Project ID , we work every day to help the most vulnerable members of our communities obtain the little card that changes lives.