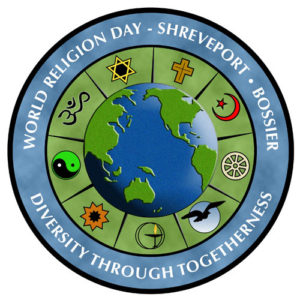 Please join us on Sunday (20 February 2022) at 3:00 PM for "World Religion Day Shreveport – Bossier City Back to Basics:  My Faith 101″
Due to the COVID-19 pandemic, this event will be an online live streaming video panel discussion.
For 20 years, Shreveport and Bossier City has been home to a multi-faith observance of the international World Religion Day celebration.
Past events have featured keynote speakers, panel discussions, music, table displays, and food from the various congregations and cultures represented.
Because the COVID-19 pandemic prevents in-person celebrations for now, we are presenting a panel discussion — the first in a series in which we hope to showcase the great religious diversity present right here in the Shreveport and Bossier City area.
We've chosen this "Back to Basics" approach for our first panel since we do not have the advantage of table displays where people might otherwise ask these basic introductory questions.
This first panel will include:
And a sixth panelist to be announced
Use this link to register here via Zoom to attend this panel discussion.